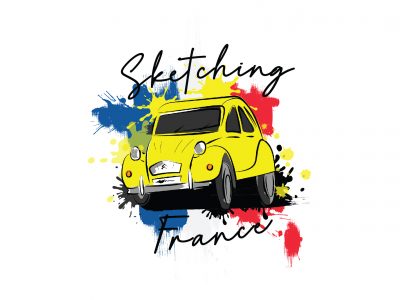 Add a flavour of France to your sketchbook!
Fabulous workshops, holidays and online courses
Sign-up here for sketch tips & details of new events!
Thank you again for making my holiday so interesting.
Thanks for a lovely couple of days sketching. I really appreciated exploring different styles with you, it's helped to open my eyes to other ways of sketching and rejuvenated my delight.
Thanks also for the care and consideration you put into planning our adventures, we greatly appreciate the effort and had a great time.

I've been meaning to say thank you; I don't think I would have had the courage to make this painting (Keifer's Dream) if we'd not done our splashing session together.
Libby Page Artist - October 2018
The most patient, encouraging and talented teacher there is. A micro grain of creativity will be rooted out by Annette and hey presto…. a new world of art and fun.
I had a wonderful week sketching with Annette last year. As a newcomer to sketching she gave me huge confidence and invaluable help and encouragement when needed. I know the others would agree with me. I have become a very active sketcher thanks to Annette and have wonderful memories of long lunches, lots of laughs and of exploring her corner of France.
Gay J. ⭐️⭐️⭐️⭐️⭐️ - January 2019 (Google Review)
I went with very low expectations but a secret hope that I might actually be able to do this – Annette said everyone can draw – and she is right!! I did and I can!! Thank you Annette for giving me the confidence to just go for it . We were so lucky that we had a beautiful sunny day (and a fab lunch sitting outside ) Lagrasse is a fabulous location to sketch too.. Annette makes you feel totally at ease and it was lovely to go with 3 other fun lovely women too ! Looking forward to more classes please soon
Honor M - Lagrasse, November 2017
Enjoyed a great 4 day sketching holiday with Annette in Quarante, France. Excellent tuition with useful exercises and tips. I think I became a little more colourful!! Annette is very organised, inspirational and enthusiastic. The bed and breakfast accommodation with Annika was "palatial" but so relaxed and comfortable that it was like staying with an old friend. I would recommend this holiday to all sketchers. Kaye
Kaye F. ⭐️⭐️⭐️⭐️⭐️ - September 2019 (Google Review)
We are both so delighted with our time spent with you. We so appreciate your kindness, patience and encouragement! You are awesome!
Nous avons passé un week-end formidable avec Annette à Bizes Minervois les 17 et 18 octobre : Annette nous a guidées avec fermeté et une grande gentillesse pour des exercices très variés et nous a fait découvrir des techniques nouvelles. merci beaucoup Annettte et à la prochaine fois !
Françoise G. - November 2020
I really enjoyed the workshop with Annette! She's so friendly and she knows how make you feel confident 
🙂 (even if you never sketched before…)
It was a lovely day!! I look forward to the next one!
Thank You Annette!!
I'm a novice, and have been to some of Annette's classes recently. She's a kind and patient teacher. If you want to try sketching in a supportive space, I can recommend Annette's sessions.
My wife Heather started zoom sketching classes with Annette Morris of Sketch Languedoc during the lockdowns in the UK. She was thrilled with how quickly Annette's teaching yielded results. However, nothing is as much fun as being outside in the fresh air in a beautiful Covid safe setting. If you are in the area, don't miss her brilliant workshops or sign up for her Zoom classes online.
David C. ⭐️⭐️⭐️⭐️⭐️ - July 2021
I greatly enjoyed the relaxed workshop in Carcassonne with Annette this morning. I learned a lot and I'm re-inspired to do some sketching. Thank you!
Frances M. - January 2020
You don't have to be an artist or any good at drawing to have a fabulous time with Annette. First time sketching and the time flew past. And our sketches actually look like something!!! Great time and learned so much.
Kendra L. ⭐️⭐️⭐️⭐️⭐️ - August 2020
I just wanted to thank you for a wonderful morning. It was so enjoyable and therapeutic!
Thank you very much for the class on Tuesday. We were very impressed with the amount of things we were able to learn from you in such a short time.
Margaret S. - February 2019
I thoroughly recommend Annette's informal courses. Great for beginners like me. I took art at school but that's where it stopped. Thanks for the encouragement Annette
I enjoyed my holiday near Beziers very much.
Annette is an excellent teacher, supportive and attentive to each student's needs.
I produced better pictures than I had anticipated but my holiday was absolutely crucial for me in deciding the direction in which I wanted my art to go. I shall always be very grateful to Annette for that.
Beverley R. ⭐️⭐️⭐️⭐️⭐️ - March 2020
I had a great week learning to sketch with Annette. As an absolute beginner I was a little uncertain and lacking confidence but Annette was super helpful and as the week went on I started to produce some art that I was actually quite proud of. The other students were great company and the whole week was thoroughly enjoyable. Highly recommended.
Paul W. ⭐️⭐️⭐️⭐️⭐️ - March 2020
Fantastic day Annette. I feel inspired to sketch at will again.
Frequently Asked Questions